So on the 2nd leg of the US Kill Uncle Tour '91. I met Morrissey again. I forget the exact date but suffice to say it was after the UCLA Poly Pavilion show that was cut short. I know this much because I had him sign the 2nd Kill Uncle Tour Book which I bought at the UCLA show.
Anyway I headed over to his LA hotel, there were about 50 fans there all dispersing. I found out I had just missed him by a few minutes and he got in the car promptly and didn't sign for anyone. So I went and got some lunch and came back later that afternoon. Once again I had just missed him. There were about 3 fans there who had gotten stuff signed. They told me he went in and they were going to wait for him to come out again.
I went over to a friends house to hang out, I was telling him about my failed attempts for the day. He said well you just gotta try one more time. He brought his dads camera and we headed to the hotel. When we got there, no fans were there at all. I figured they must have gotten what they wanted and left. Just as we were about to leave a town car pulled up. So we agreed to wait to see who was going to get in it.
Sure enough slowly walking my way it was Morrissey. He was in a really good mood. He said "oh were you waiting for me?" Typical Moz being facetious. He signed my tour book and I asked him about a rumored bootleg of Viva Hate outtakes. He assured me there really were no complete songs that were outtakes from the Viva Hate sessions. My friend had him sign the Morrissey Rock Star Trading Card, he knew about it but thought it was an odd thing to sign, on the picture of him on the back of the card he drew a little Hitler mustache. He wanted to know what shows we had seen on the tour, what songs sounded particularly good live. We mentioned the shows were too short. He said something about that's how I get you to go to more than one show. He was starting to say something then he stopped short and realized he had to leave. He said he wanted to chat longer but he was meeting an "impatient" friend. Just as he turned we asked if we could take a photo. He said, "Oh yes thank you" My friend felt rushed and he messed up the photo. Its out of focus and snapped the shot when Moz was looking away. argh... but I guess a crappy photo is better than no photo. He extended his hand to shake hands goodnight. I responded with my arms wide and he gave me a hug and said "thank you." My friend settled for the handshake. This was the last time I met Morrissey. Which was a good way to end it, I got to have him all to myself right when he was in the height of his fame. Subsequent times I tried to meet him, there were just way too too many fans. There was just no way he could have stopped to chat and sign for them without getting mobbed.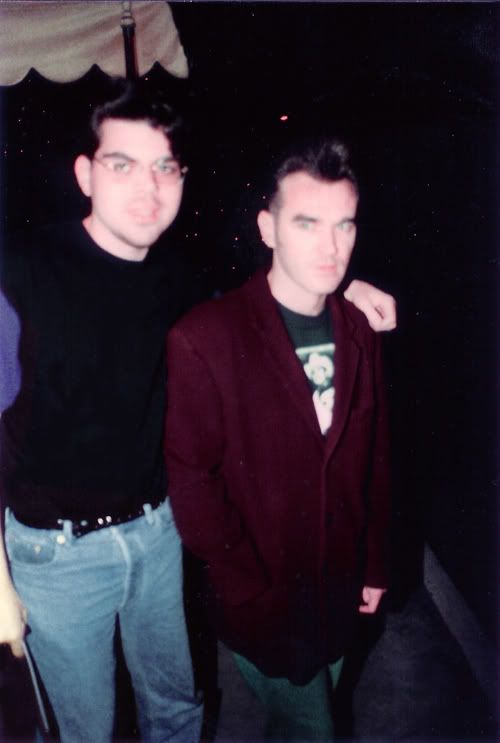 Hope you found it interesting.